Who we are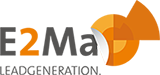 E2Ma GmbH is among the leading companies in the field of lead generation for the purposes of direct marketing and market research in Germany.
The company has been operating in the German market since 2005, and in 2014 the company's activities were extended to Austria and Switzerland. As part of the TPNG group E2Ma GmbH has experience, industry knowledge and a significant potential in the area of lead generation.
Leads cleaning
High flexibility in data provision
More than 60,000 leads per month
More than 300 satisfied customers

In 2016 E2Ma GmbH took over KIOSK Media GmbH from Munich and thus further strengthened its position in the area of ​​email marketing and lead generation.
KIOSK Media has been active in lead generation for catalogue and newsletter orders since 1997 and has since collected more than 5 million consumer data. Typical customers are mail order companies, travel companies and tourism organizations who want to win new customers for ordering catalogues, advertising brochures and newsletters.
KIOSK Media operates various platforms to generate your data, e.g. www.mein-kiosk.de , www.reise-guide.de and www.wandern-aktiv.de. This way a wide variety of target groups can be addressed for the customer.