Catalog marketing
Finding new propects for catalogs, travel brochures and newsletters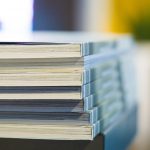 In times of online shopping, the good old catalogs sometimes have a hard time. However, 12.5 billion catalogs are sent out every year. This doesn't happen without a good reason: consumers still prefer to browse catalogs, even if they ultimately do their shopping in the virtual world. And in addition to all the spams that end up in the e-mail inbox every day, a well-designed catalog reaches potential customers directly and with even more emotion.
Some marketing professionals would describe catalogs as dusty relics from long-forgotten trading days. However, this is not the case, because print – cleverly and modernly used – can also be useful and inspiring for consumers.
Just as some people cannot make friends with an e-reader because they prefer to hold a book in their hand, so some consumers would rather browse through a catalog rather than do extensive research on the Internet. We would be happy to advise you and work with you to find the right solution.

So print media are far from dead and we can help you market them. Open up a new potential for prospective customers interested in catalogs, brochures and newsletters! You will find a large number of catalogs and newsletters on the topics of shopping, fashion and travel on our portal Mein Kiosk. But we also market catalogs for health products, for families, animals, and much more.
Would you also like to place your catalog or newsletter on our catalog and newsletter portal "Mein Kiosk"? Then contact us and find out about your options by phone at +49 40 890 66 33 61 or by email at info@e2ma.biz. We would be happy to advise you and work with you to find the right solution.